During January 10-18, 2022, in co-operation with our partner company CB Softplus from Thailand, INFO TECH provided a remote training course on the IEC 61850 communications, combining basic and advanced parts of our agenda.
Thanks to CB Softplus activities several companies from Thailand could gain comprehesive knowledge of this most important standard for the power utility communication systems:
1. Precise System & Project Co., Ltd. (5 persons)
2. Italthai Engineering Co., Ltd. (2 persons)
3. Hitachi Energy (Thailand) Co., Ltd. (2 persons)
4. Independent researcher (Dr. Kittiphan Techakittiroj)
5. CB softplus Co., Ltd. (3 persons)
CB Softplus will be also representing INFO TECH in further activities, providing products & services such as IEC 61850 libraries, IEC 61850 toolsets, trainings and consultancy to serve the upcoming projects & research in Thailand.

During the year 2021 the source code license to INFO TECH IEC 61850 Software Library was purchased by 5 customers while 2 new companies decided to use our binary libraries for MS Windows platforms.
We also assisted our new and long term customers in the Library-based implementation of the IEC 61850 interfaces in the target products. Some of these development activities already aim at Edition 2.1 of the standard.
Our customers obtained 3 new IEC 61850 conformance certificates granted by the UCA IUG. In this way the INFO TECH reference list is already composed of 35 conformance certificates: 32 for server devices and 3 for client devices !
After adding the support of IEC 61850 Edition 2.1 to our  our testing and simulation applikcations 61850 Avenue and 61850 SCL Runner, we could also enjoy the growth of toolset license sales in Europe, Asia, North America and Africa.
We are pround that despite of the second year of the global pandemic situation and uncertainities of the economic growth, it was possible to retain the strong co-operation with our key customers, for whom INFO TECH software and the related services bring true and unreplaceable added value to their products. Thank You All for this !
On May 31, 2021, an article 'A Critical Review of IEC 61850 Testing Tools' was published in Sustainability, an international, cross-disciplinary, scholarly, peer-reviewed and open access journal  published semimonthly online by MDPI. The article  summarizes a review of IEC 61850 testing tools available in the market and evaluated at FREA/AIST of Japan. Below you can see how our IEC 61850 testing tools have been rated.
Disclaimer: Views and opinions expressed in the quoted publication belong solely to the original author of the view/opinion, and do not necessarily represent the views and opinions of our blog.
The following INFO TECH software was taken under this review:
A detailed evaluation of our tools (quote from the article)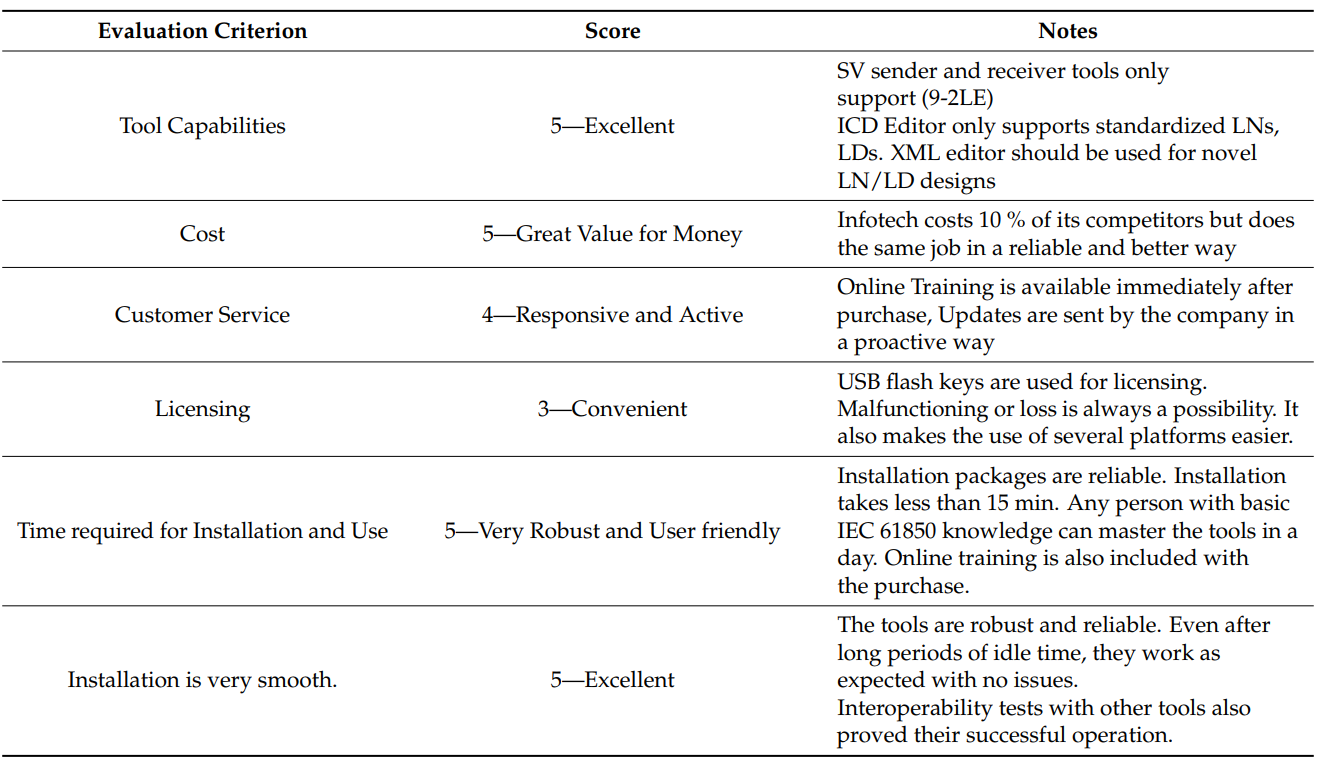 Summary assessment of the tools used (quote from the article)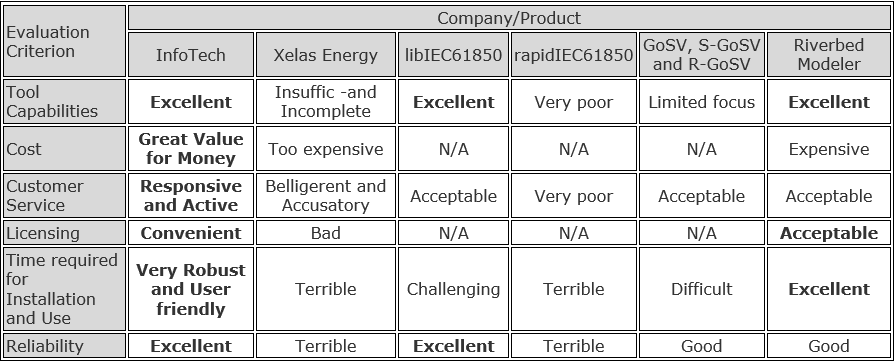 Full article: A Critical Review of IEC 61850 Testing Tools.
The INFO TECH related part of the article.
In June 2021 INFO  TECH has released a new version of 61850 Avenue toolset with with new capabilities.
The client tool version 2.1.12:
- verified support to Edition 2.1 of the IEC 61850 standard,
- added a common view to monitor selected items from different IEDs (PDV - Process Data View),
- minor improvements.
New functionality of 61850 Avenue - Process Data View (PDV)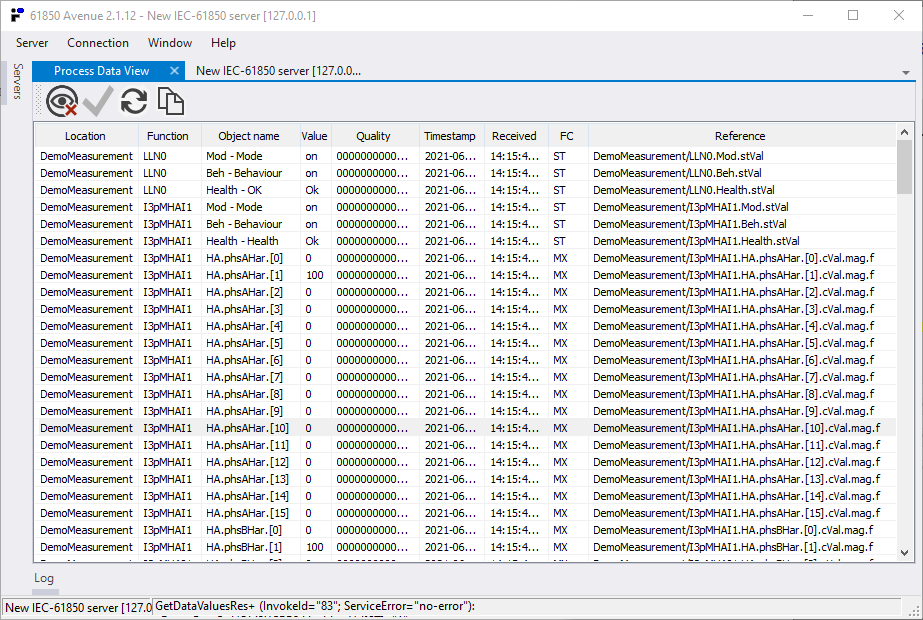 Welcome to learn the details of the new release of the 61850 Avenue toolset.
INFO TECH testing and simulation tools for the IEC 61850 standard based communication are already licensed to over 100 companies and research institutions from 5 continents.
During January-April 2021 INFO TECH has been selected as a supplier of the licensed source code implementing IEC 61850 communications by 3 new customers. And still 2 other companies have decided to purchase licenses to the binary versions of INFO TECH IEC61850 Software Library. In the same time we have accomplished 2 development projects for customers utilizing our Library in their systems and provided 2 remote training sessions on the IEC 61850 communication.
We are indeed the leader in providing the support to the IEC 61850 Edition 2.1 in the libraries and testing toolsets.
Note on the side:
The very recently announced changes (April 28) in the UCA  IUG policy of the IEC 61850 conformance testing prolong the deadline for Edition 2.0 conformance testing service from January 2022 till January 2024. This will be done in parallel to the available Edition 2.1 conformance testing service. These changes may be simply interpreted as a proof of inability of several vendors to effectively upgrade their implementations in products and configuration tools to the latest Edition 2.1 of the IEC 61850 standard.
Is it so that some clear deficiencies of Edition 2.0, revealed in the published tissues, will be neglected by the interest in retaining the present market position of some suppliers?